Sakuragaike Kurgarden is located in Nanto City's Johana, also known as the Etchu's Little Kyoto.
The area, with its harmonious mix of nature and culture, has served as the gateway to the World Heritage Site Historic Villages of Shirakawa-go and Gokayama since long ago. In recent years, since the opening of all lines on the Tokai Hokuriku Expressway, access from areas like Nagoya (2.5 hours) has become much easier, so you can quickly get away to relax in the woodlands.
1-minute walk from the Johana Service Area parking lot
The Johana Service Area is outfitted as a "highway oasis" where you can access the surrounding facilities without getting off the expressway. You can walk to our hotel from the service area's No. 2 parking lot.
If coming by car
About 8 minutes via the Tokai Hokuriku Expressway/Fukumitsu IC
Take the Fukumitsu IC exit and go straight through the traffic light, then follow the road for about 8 minutes.
You can also park your car at the Johana Service Area and walk to the hotel from there.
Please note that because the Johana Service Area is on the expressway, you will not be able to turn around here.
From Kanto Area
(About 5.5 hours)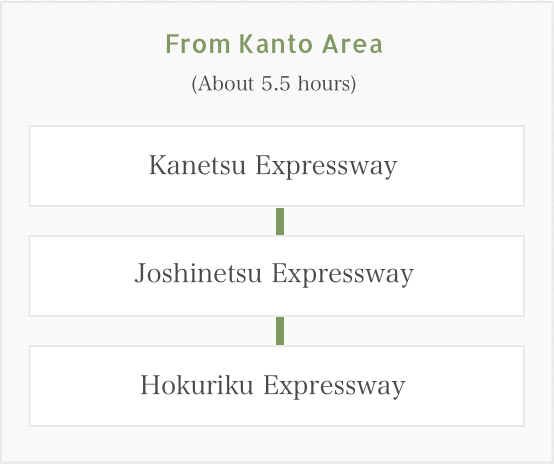 From Nagoya Area
(About 2.5 hours)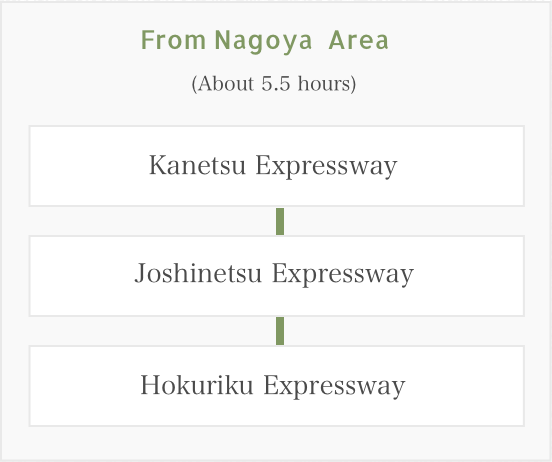 From Kansai Area
(About 4 hours)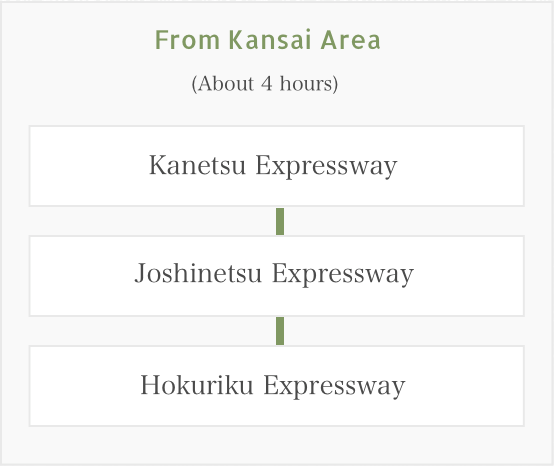 If coming by train
About 8 minutes by car from JR Johana Station
From Tokyo/Nagano

From Nagoya

From Osaka

Information on pick-up and send-off service (reservation required)
We will pick up guests coming by train from Johana Station.
Please contact us in advance.
[Hours of pick-up/send-off service] 9:00~18:00